JANE MULFINGER · Mobile Apparitions Series · 2003, performance with mobile objects - feathers, fans, aluminum, steel, lexan, energy - streets of Venice, London, and Los Angeles
This series is a growing collection of objects taken for walks on city streets. The hand-propelled units manifest the ethereal movement of feathers within the movement of a city center, providing possible moments of contemplation and visual pleasure for the audience. The feathers move strikingly slowly in comparison to the fast-paced city centre, so much so that people on their way to work stop in their tracks, mesmerized by the view.
The structures are finely milled aluminum and steel and the dimensions have been determined by sidewalk ordinances. Gallery presentation occurs only after the object's introduction to the specific dedicated city center, each object having accrued memory through an engagement with the street, including the success rate for energy requests from shopkeepers. Rather than assuming that the public must travel to the work, these objects travel to the audience. The flaneur-like unplanned journeys fix the chance encounters on film, in order to continue the narrative of its movements and share that history with a broad audience. Gallery presentation of the objects includes the composite video histories of all.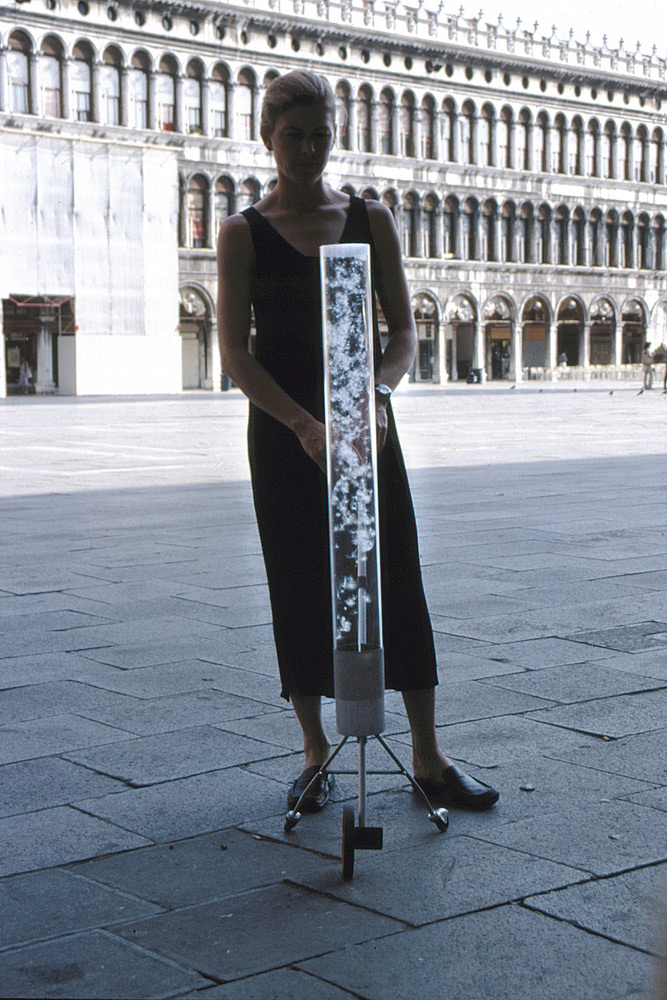 Mobile Apparition: little epiphanies or petit mal (Venice)
13x56x98cm., handful of goose down, architect's measuring wheel, hardware, battery pack
negotiating body: Commune di Venezia, (no reply), number of connections to power grid: none, number of independent battery connections: 25, distance traveled: 3 kilometers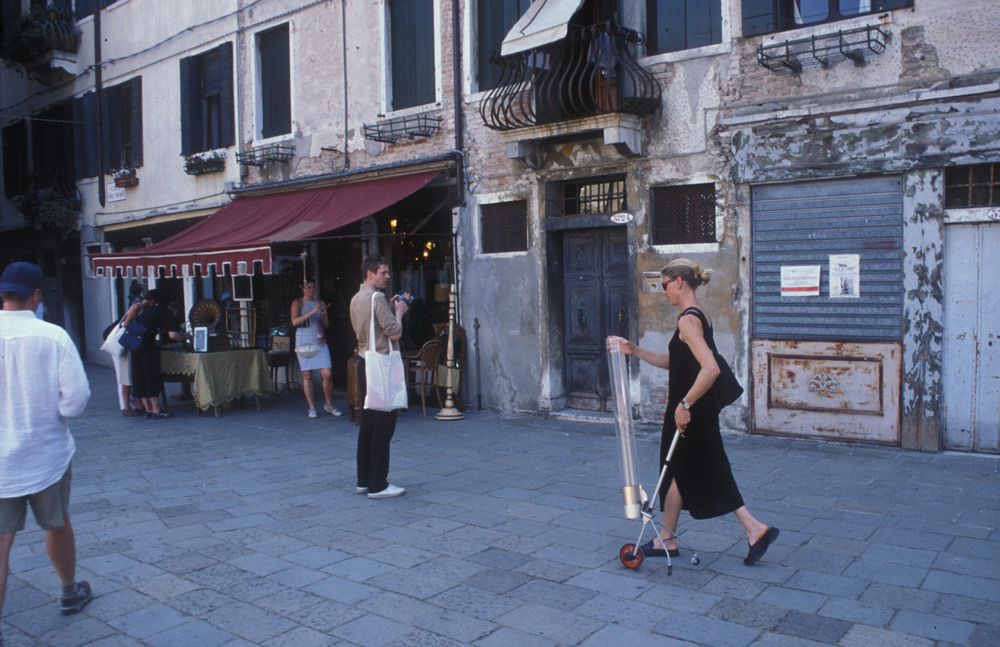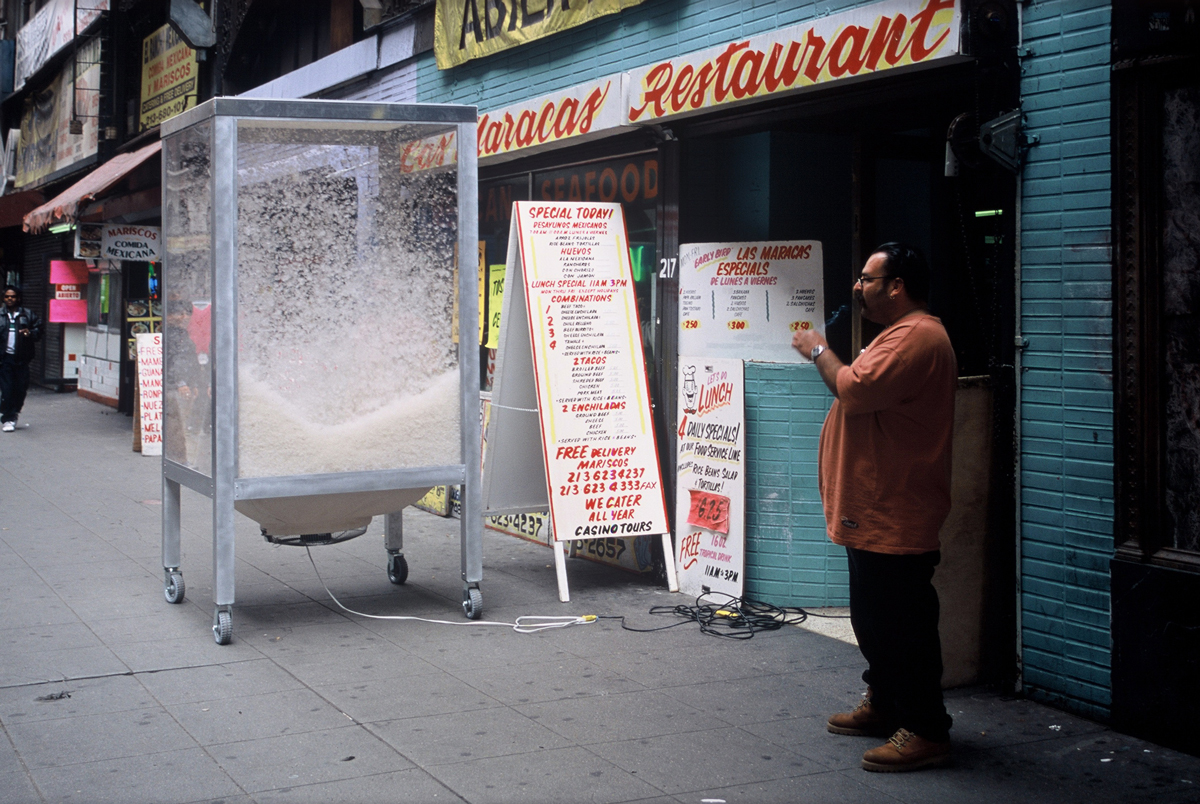 Mobile Apparition: Mass, (Los Angeles)
4'x4'x7', content of one king-size feather pillow, canvas, hardware, energy
negotiating body: Los Angeles Police, number of connections to power grid: 3, distance traveled: 1 mile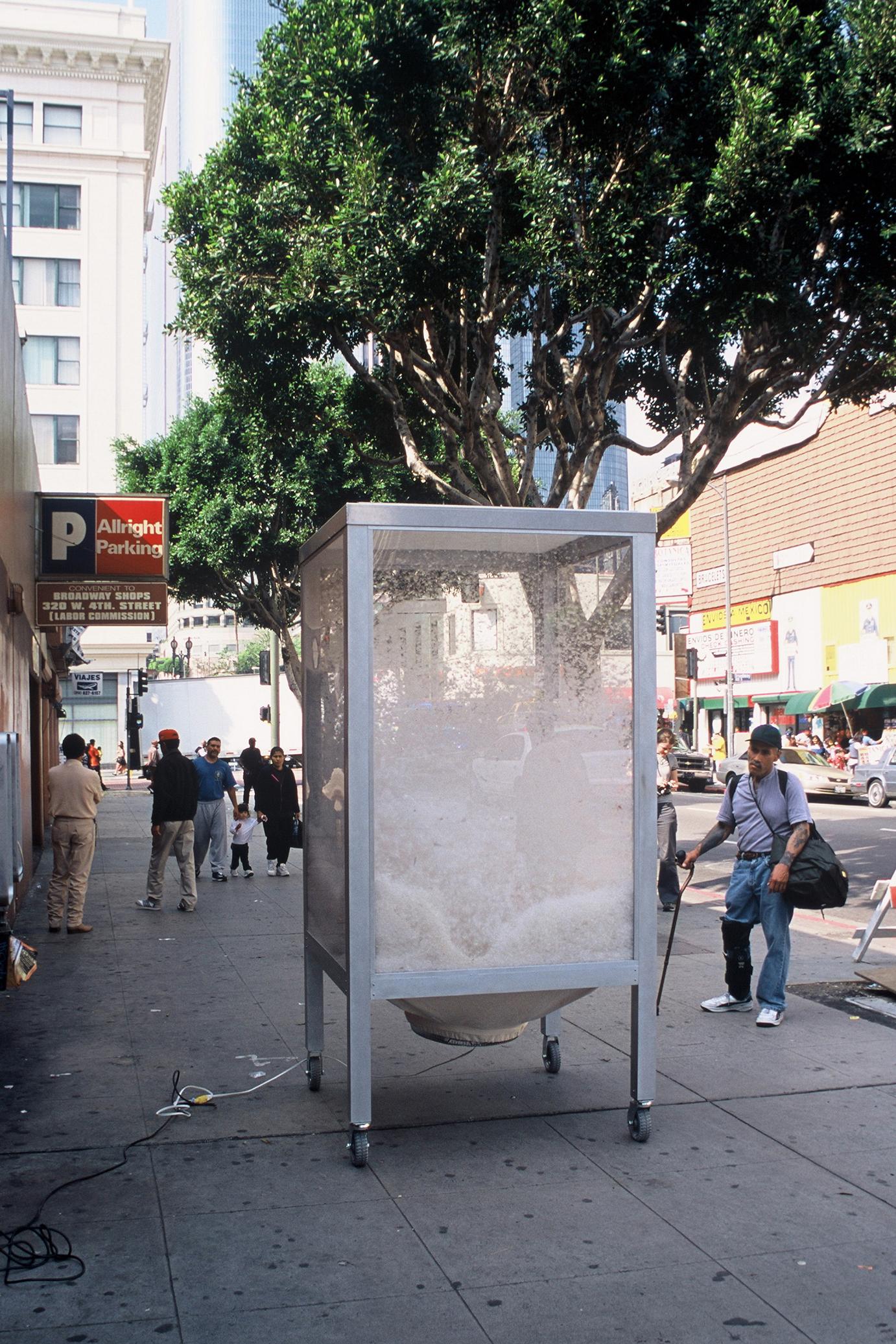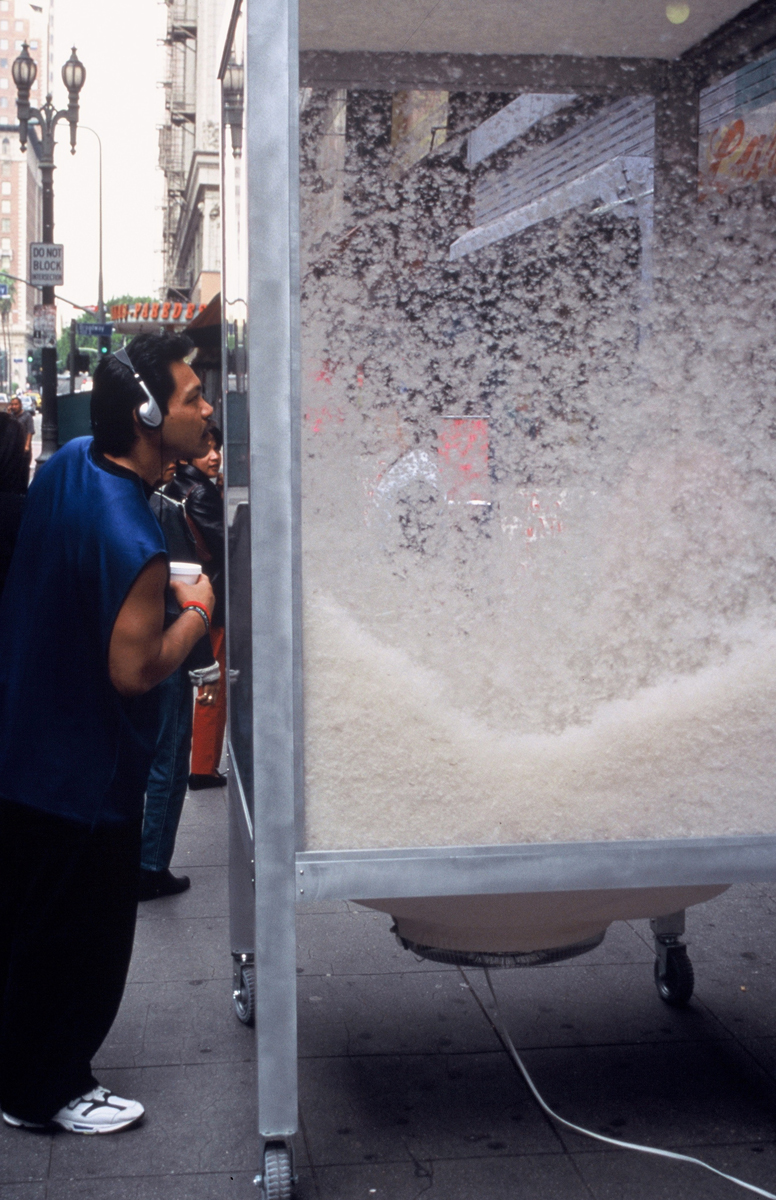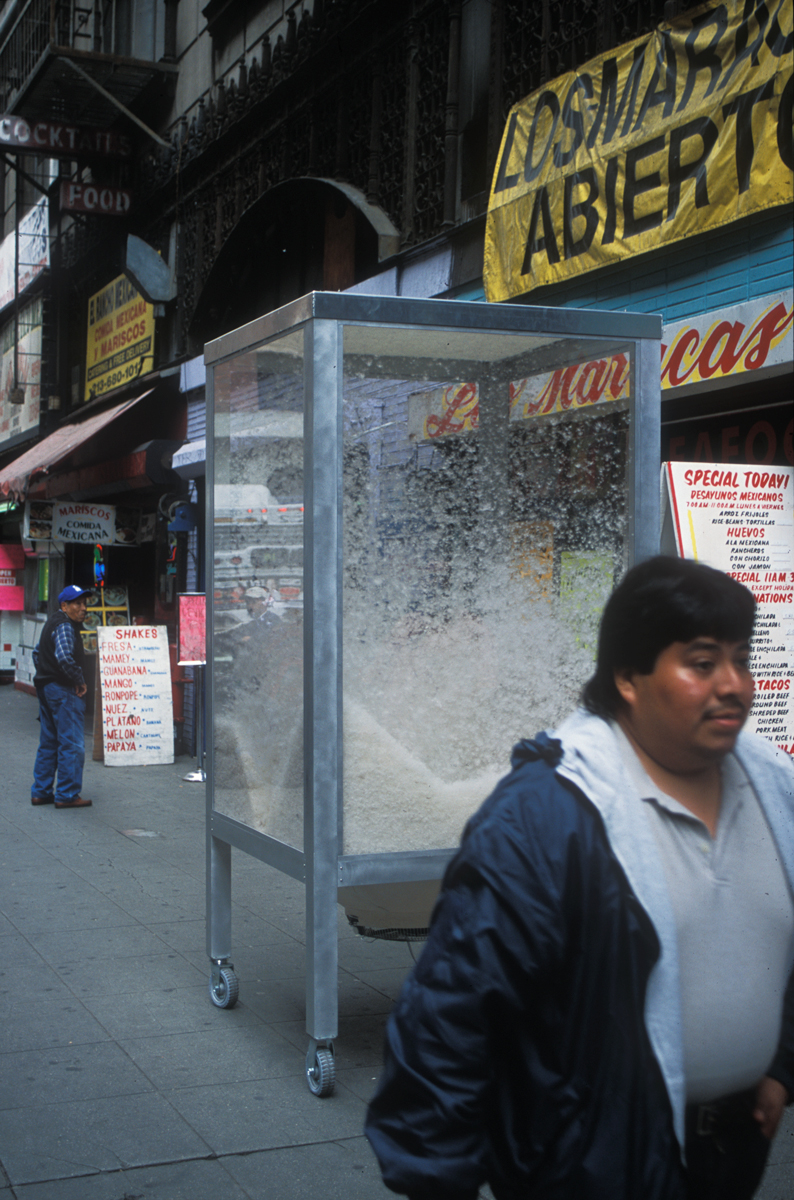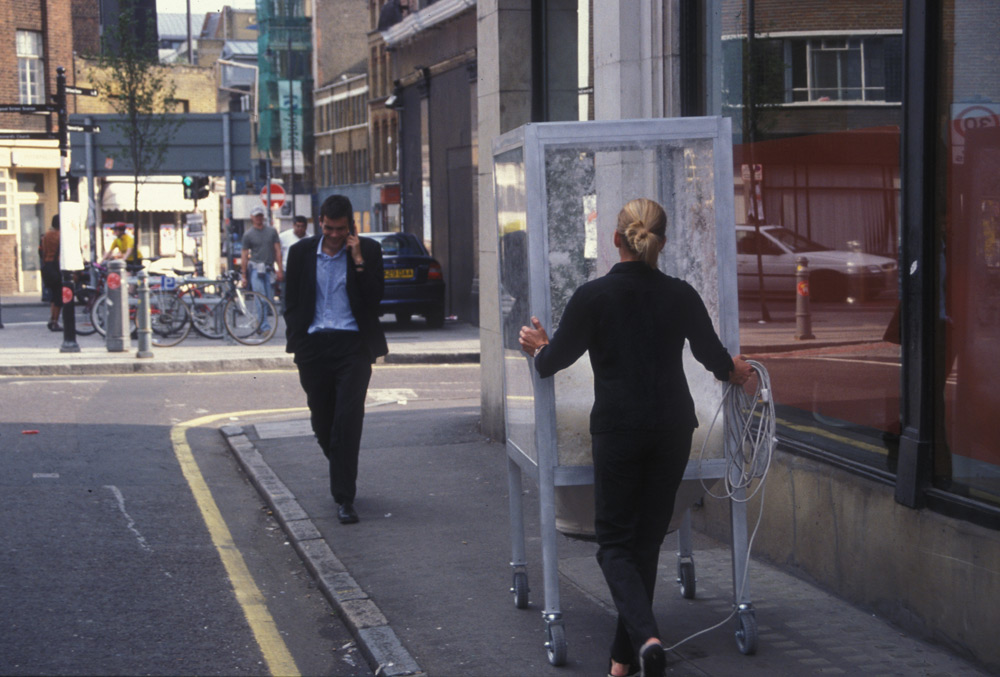 Mobile Apparition: Victorian Square (London)
76x122x198cm, content of one queen-size feather pillow, canvas, hardware, energy
negotiating body: Hackney Council, number of connections to the power grid: 4, distance traveled: 0.5 kilometers