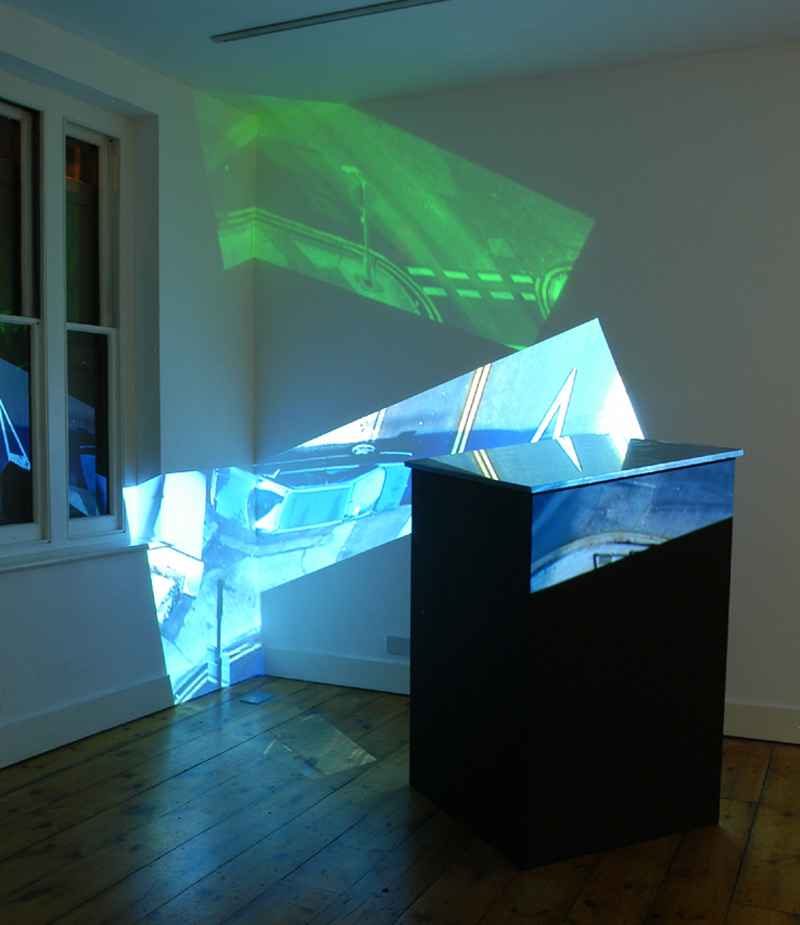 JANE MULFINGER & GRAHAM BUDGETT: Hanbury Terrain: time as a factor of depth 2005
Wood, glass, video projection, sound, acrylic, etchings 2x3', video projection 10'x10'x11'
Platform Gallery, London
A site-specific work regarding the nature of the changing landscape and subscape of London's East End

The future of an ordinary intersection on Hanbury Street in the East End of London lends form to a collaborative work by artists Graham Budgett and Jane Mulfinger. Video projection, sound, and sculptural elements take us from Elizabethan mapping to the present day and on to future plans for tunneling under this dense urban territory. To know a city well is to understand its topography, to recognize sections of pavement, to remember its rhythm in spatial and auditory terms. Drawing a map is one way of knowing the town, understanding it 'from the ground up'. This work takes the sense of horizontal vastness implied by London maps and contrasts it with a massive vertical displacement of earth destined to be extracted from this area.

In the gallery, an aerial view of the corner of Spital and Hanbury Streets is projected across the space and intercepted by a large truncated prism, a scaled and stylized manifestation of a future shaft that will extract 1,600,000 cubic meters of soil to Liverpool St. The polished granite surface of the prism's upper face interrupts and displaces a section of the projected image of street activity on one winter's day and re-casts it elsewhere in the gallery space. Mounted on the walls, etchings on glass taken from historical maps of the area examine the changes that have taken place over time, from agrarian pastures to Victorian overcrowding and multiple successive immigrant populations. Soon some surface buildings under compulsory purchase order will vanish from here along with a core of untold stories of the East End. Hanbury Terrain serves as a kind of premonition of things to come not without a sense of trepidation and curiosity.